Hazmat Tarps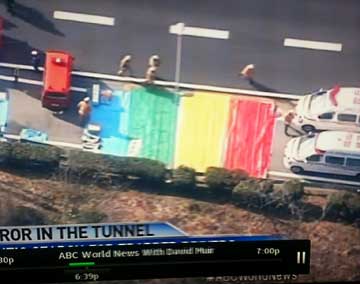 You never want to believe it will happen to you, your community or your department, but since 9/11 we have all come to understand the need for a constant vigil and emergency preparedness. Fuel spills , hazardous chemical drums and other petrochemical disasters require immediate and effective response to control the scene and provide maximum aid in the shortest possible period of time. THOR Tarp's (3) tarpaulin mat set consisting of (1) each Red, Yellow & Green tarpaulins should be standard equipment for all early responder departments to quickly classify HOT, WARM and COLD/SAFE areas of containment. Deploying these tarps quickly allows the responders to immediately classify danger zones from safe zones by color coding the areas of clean-up and containment. It can be as simple as laying down a box grid of fire hoses to create a "berm wall" over which the tarpaulins are laid so that the spill is then contained within the safety net of the tarp's liner area. Working then from the "top down" everyone involved is managing the scene from the same playbook and the attention is quickly focused on the RED/HOT area of greatest need, followed by a clean-up of the YELLOW/WARM area with GREEN/COLD representing the safe zone. Set aside the necessary budget to add important tools to your department's emergency response arsenal. ThoroShield tarpaulins are fire retardant, oil & chemical resistant, cleanable with soap and water or other vinyl cleaners, and completely waterproof for spill and fluid containment be they chemical or biomedical in nature.
THOR Tarp is pleased to introduce our new line of Emergency Response Tarpaulins for color coding critical and non-critical issues. We offer these tarps in (2) different grades: Medium Duty ThoroShield 1300 FR - 13 oz/sy fire retardant, oil & chemical resistant, water-proof & cleanable polyester rip-stop tire cord reinforced laminated vinyl & Heavy Duty ThoroShield 1800 FR - 18 oz/sy fire retardant, oil & chemical. These products may be purchased as heat sealed panels (HSP = w/ a raw factory edge) or as Grommetted Tarpaulins (GT = w/ sewn hems & brass grommets @ 2' centers).
These tarps may be purchased individually or in sets of 3 color coded tarps (1 each: red, yellow & green) at a moderate savings.
Need something not shown here? Email us today with your requirement and we will be happy to quote it for you!
Available Colors:
• Red = Hot
• Yellow = Warm
• Green = Cold
Grommets on 2' centers
Note: these are all cut sized and slightly smaller than dimensions stated due to loss of fabric in seaming and hemming.
Fabric Type
ThoroShield 1300 FR
3 Pack of ThoroShield 1300 FR
ThoroShield 1800 FR
3 Pack of ThoroShield 1800 FR
Red:
Red:
Yellow:
Yellow:
Green:
Green: